Living
5 Smart Reasons to Shop from the Bulk Bins
Primary Media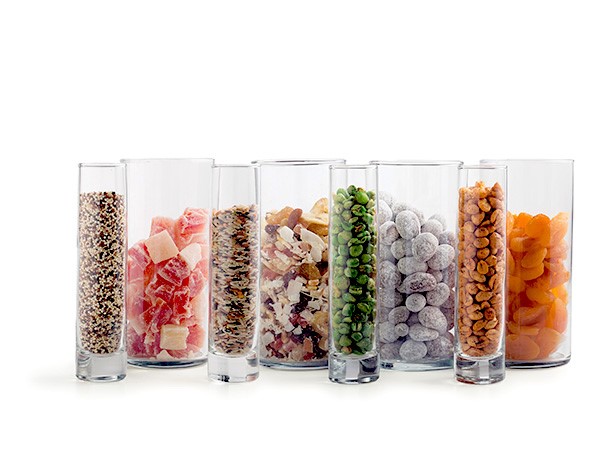 Description
So many snacks. And that's not all. The bulk bins at Hy-Vee are home to assorted dried fruits, nuts, specialty flours, grains, legumes, candy, even spices. Here's how shopping in this section can save you money and reduce waste. 
Buy Exact Amounts

For soups, casseroles, holiday dishes, and other recipes that call for small amounts of grains, legumes, or nuts, the bulk section—despite its name—lets you buy items in very small amounts. If you only need a cup of rice, just buy one cup. If you only need a quarter-cup of nuts, that's all you have to get. 

Try New Things

This is the chocolate almond toffee ... in case you're wondering.

Walk down the bulk bin aisle and count the number of items you haven't tried. There's spicy peanuts, dried paypaya, chocolate almond toffee, endless varieties of rices, beans, lentils, and grains. There's soup mixes and trail mixes, too. Not to mention the candy. Find your new favorite ingredient or snack next time you're near the bulk bins. 

A Part-Time Baker's Dream

So you love to bake but rarely get the chance. If you can relate, the bulk bins are there for you. You can buy specialty flours (pastry flours, cake flours, gluten-free flours) and grains in small amounts. That way your ingredients are always fresh and in just the amounts you need.

Road Trip Snacks

Wasabi snack mix ... better get enough to share.

Forget ordinary snacks and head to the bulk bins. Stock up on sesame garlic sticks, chocolate double dip peanuts, gummy butterflies, and maybe some blueberry flax granola, just for the health of it. And definitely don't forget the wasabi snack mix

Spiced Just Right

Does your recipe call for garam masala or one bay leaf? If you're not sure you'll ever use a certain spice again or only need a small amount of something, shop for your spices in the bulk aisle. Or, if you know you use a ton of cinnamon, save money and reduce package waste by buying a large bag.