Primary Media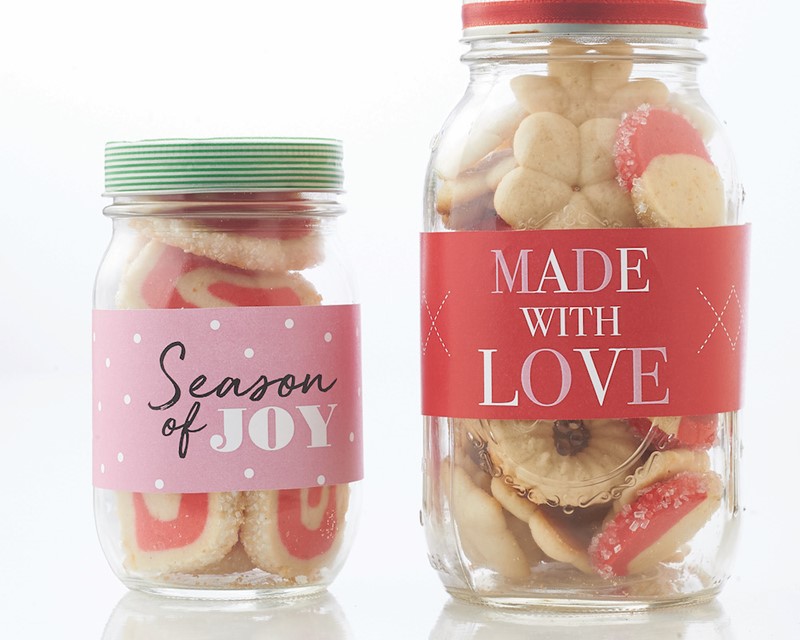 Holiday Cheers

Tissue paper, ribbon, and some decorative jingle bells—that's all it takes to wrap a bottle of wine for the holidays.

Little Bakery Bites

Slip Hy-Vee Bakery mini cupcakes into a miniature cupcake pan from Hy-Vee. Wrap parchment paper lengthwise around the pan, being careful not to squish the cupcakes, and secure with a holiday sticker and string.

Cookies & a Card

Tie ribbon around a cellophane bag of bakery cookies. Punch a hole in the corner of a gift card, feed wire through the hole and attach the card to the bow.

Candy Jar

Create a personalized design by carefully layering colorful candy in a glass jar. Finish by attaching a simple tag with a handwritten message.

Can't Go Wrong with Chocolates

Stack several bars of rich Zöet chocolate, securing with double-sided tape. Tie string or twine around the stack and finish with a bow.

Coffee & Chocolate Spoons

Melt chocolate over low heat. Then dip the spoons into the chocolate and add additional candy decorations. Let them stand on waxed paper until the chocolate is dry. Place the spoons in a small cellophane bag and use ribbon to tie the bag to a pound of coffee.

For the Foodie

On a slate platter, arrange a variety of specialty cheeses into a wheel shape. Secure with cheesecloth, tying excess fabric into a bow. Pinch the center and adhere bow with hot glue. Then use chalk to create a personalized holiday message.

Santa's Cookie Jar

Fill a glass jar with store-bought cookies. Craft a belt buckle out of gold paper and fasten around the jar with ribbon. Stuff a small Santa hat with tissue paper to keep its shape and place it over the lid.

Cookie Cutters

Using purchased crispy rice cereal treats, cut holiday shapes using cookie cutters. Drizzle melted chocolate over cereal treats. Place treats and cutters into a cellophane bag and attach a tag.