Primary Media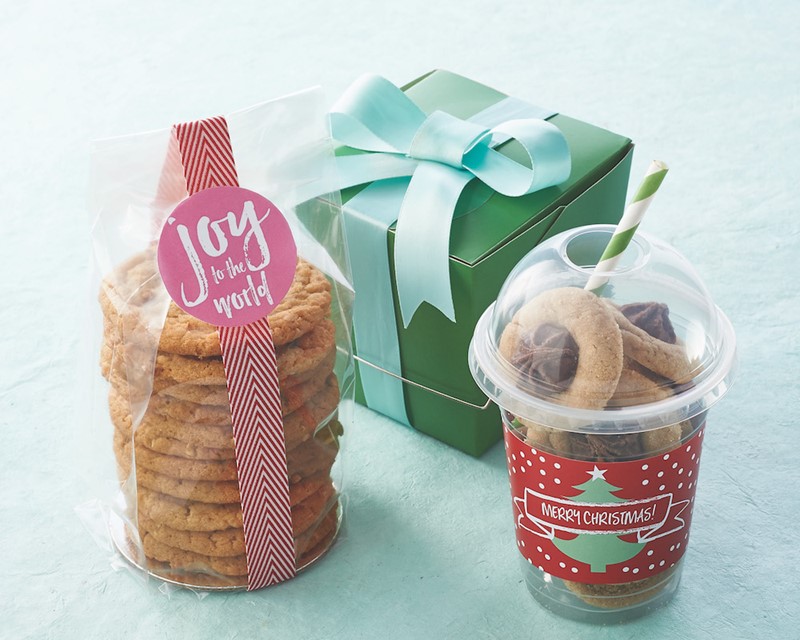 Description
No need to get a bunch of fancy cookie tins—just use what you have to wrap up a sweet treat. 
Cookie Totes

Keep things simple—fill a bright red paper sack with cookies, fold down the top and secure with a holiday label.

A Latte Fun

An ode to java, fill a mug with cookies and secure with twine. Then attach a simple holiday label.

See-Through Stacks

Pack a stack in a cellophane bag, fold the top and secure with decorative tape and a gift label.

Takeout Treats

Fill colorful takeout containers with cookies or sweets and wrap in ribbon.

On-the-Go Cookies

Next time you're getting coffee, ask for an extra cup and lid. Decorate it with holiday paper, fill it with treats, and insert a colorful straw.

Single-Serving Sweets

Cut a square of fabric and fold the corners toward the center to create an envelope. Wrap a cookie in parchment to tuck inside. Glue or tape corners to secure. Add a festive paper band and string of playful pom-poms.

Colorful Cones

Shape sturdy craft paper into a cone and secure it with glue or double-sided tape. Insert cookies wrapped in colorful tissue paper and tie with ribbon.