Primary Media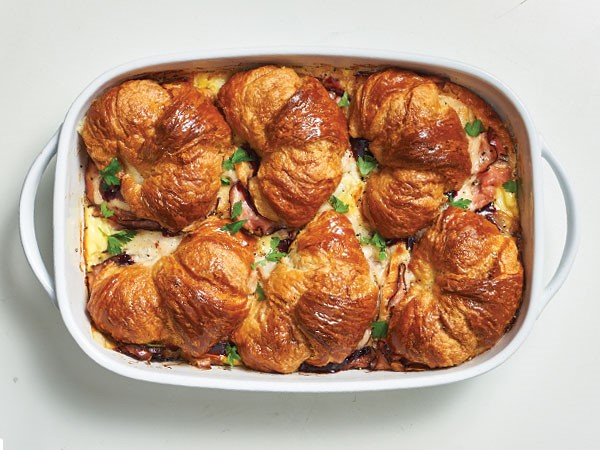 Description
Did you know our Hy-Vee Bakery Croissants could be transformed into so many tasty treats? We've got chocolate croissants, Danish rolls, Monte Cristo Sandwiches and so much more.
Monte Cristo Sandwich Casserole

Cut Hy-Vee Bakery croissants in half and layer with meat and cheese. Top with egg and half-and-half mixture. Allow to soak 2 hours or up to overnight. Bake at 350 degrees for 45 minutes or until set and internal temperature reaches 165 degrees.

Bacon and Egg Breakfast Croissant

Split 1 Hy-Vee Bakery large croissant; toast in a toaster and spread bottom with purchased pesto. Set aside. Whisk together 2 Hy-Vee large eggs and 2 tablespoons water. Heat a small nonstick skillet over medium heat. Add 1 teaspoon Gustare Vita olive oil and 1 teaspoon Hy-Vee salted butter. When hot, add egg mixture to skillet. Coat until eggs are set, turning once. Place 1 slice Hy-Vee sharp Cheddar cheese on top of eggs, then fold eggs in half. Place cheese-filled egg, 2 slices crisp-cooked Hy-Vee sweet smoked bacon on top. Finish with toasted croissant top.

Chocolate-Stuffed Croissants

Preheat oven to 200 degrees. Make a small cut into one side of 2 Hy-Vee Bakery mini croissants. Break 2 squares of Zoet 57% dark chocolate into small pieces; stuff one square of broken chocolate into each croissant. Place on a rimmed baking pan. Warm in oven for 10 minutes or until chocolate is melted. Sprinkle with Hy-Vee powdered sugar, if desired.

Easy Croissant Danish Rolls

Cut an "X" in the top centers of 8 Hy-Vee Bakery mini croissants. Using the handle of a wooden spoon, poke a hole into the "X" and move in a circular motion to create a hollow shell. Beat together 1 (8-oz.) package softened Hy-Vee cream cheese, 1 (8-oz.) container mascarpone cheese, 3 tablespoons Hy-Vee powdered sugar, and 1 teaspoon lemon juice. Pipe filling into each hollowed croissant; spoon 1/2 teaspoon warmed Hy-Vee apricot preserves on top of each croissant.

Fruit and Yogurt Croissant Cones

Preheat oven to 350 degrees. Cut 1-inch off one end of 8 Hy-Vee Bakery mini croissants. Crumble ends and spread on a baking sheet. Bake for 4 minutes or until toasted. Hollow out trimmed croissants. Spoon 1/4 cup Hy-Vee vanilla nonfat Greek yogurt into each croissant cone. Top each with 1/4 cup Hy-Vee Short Cuts mixed berries. Sprinkle with croissant crumbs.