Primary Media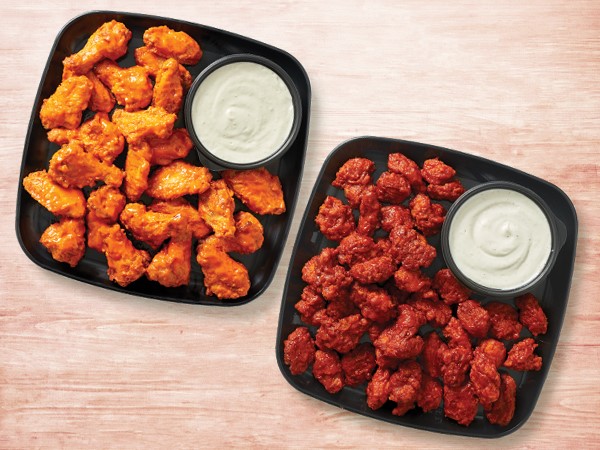 Description
Whether you're watching the Big Game with just a few or a bunch, Hy-Vee has game-day snacks covered. Visit your local Hy-Vee or call the Catering Department to find the nibbles that keep your hunger at bay on game day. Chips, dips, wings, sandwiches, trays, pizzas, and more are ready when you are. 
Game Day or Any Day, Pizza Wins

Order Hy-Vee 14-inch Take & Bake pizzas with a variety of crusts and toppings, that bake in 10 to 15 minutes. 

Need it now? Wood-fired Mia Pizzas can be ready in 6 minutes. Show up with piping hot pizza ready to eat and customized just the way you like it!

Meatballs

Barbecue or Swedish, meatballs are a satisfying nosh while you're cheering for your team. Available by the pound, order enough for everyone.

Brownie Cocktail Trays

Trays include a selection of fudge, turtle, German chocolate, and cream cheese brownies. And you don't have to run to the store to grab a pack. Order on Aisles Online!

Chips and Dips

Boards Galore

Charcuterie boards with an assortment of meats and cheeses, along with nuts, spreads, and other accompaniments, offer variety. Create your own or order one already assembled.

Don't Forget the Veggies

Hoagies and Heros

Game day calls for sandwiches. Select some from the deli or order a platter from catering. 

Chips and Guac

Pair Cocina Mexicana tortilla chips with freshly made homestyle guacamole from the Hy-Vee Deli.

Chili, Chili, Chili

Ribs

Hy-Vee barbecue half-rack and full-rack ribs are prepped with a secret Hickory House rub and smoked to perfection right in the store.

Win the Thirst Game

Whether you call it soda or pop, visit the Hy-Vee soft drink aisle or order through Aisles Online to have plenty on hand while watching the Big Game.

For Something a Little Harder...

Add a little punch to your cocktails! Hy-Vee offers a variety of beers, wines, and spirits to meet all your beverage preferences.

Winner, Winner Chicken Dinner

Order Hy-Vee fried, spicy fried, or herb-roasted chicken by the piece to have the right amount, no matter the size of your group!

Slow Cooked Meats

Hy-Vee Hickory House pulled pork is slow-smoked until it's tender. Pick up a pound or two and pair with a savory onion bun. It's sure to be a game day favorite.

Crunchy, Salty Pretzels

Kick Off the Game with Dip

Hy-Vee Buffalo Chicken Dip delivers a little spice to game time. Enjoy with crunchy or crisp dippers like vegetables or crackers.

Game Changer

Cooked, peeled natural shrimp served with cocktail sauce and a squeeze of lemon is a welcome game time treat. Trays serve from 8 to 30, so it's easy to order for any size gathering. 

Sweet Victory

Cupcakes

Everyday cupcakes from the Hy-Vee Bakery were practically invented for game day. Try white, chocolate, or confetti topped with chocolate or vanilla buttercream. Available for pickup or delivery, make sure to order a variety so everyone gets their favorite. 

Get a Little Saucy

Chicken wings are always a good choice, and Hy-Vee offers both bone-in and boneless, plus sauces available in five flavors—BBQ, Buffalo, General Tsao, Honey Mustard, and Honey Roasted Garlic. Order one or more to satisfy the whole bunch.