Primary Media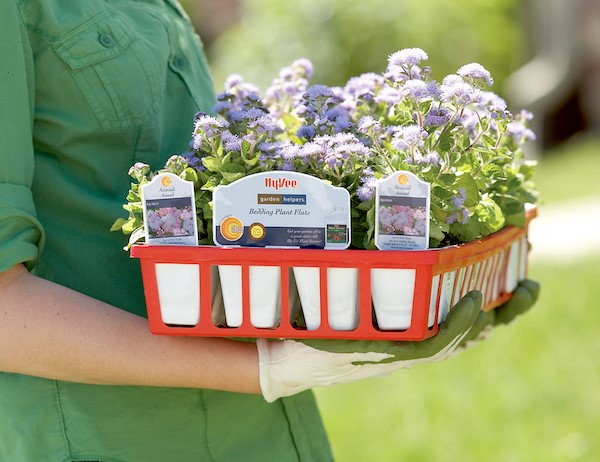 Description
First things first. Annuals are plants that flower for one season and need to be planted again the following season. These are great for adding color to the landscape throughout the late spring and summer months. Perennials, on the other hand, bloom season after season, but they are best planted during spring or fall. Below are 5 easy-to-grow annuals and 5 perennials.
Be sure to check out your local Hy-Vee Lawn & Garden Center for seeds, gardening tools, plants, patio furniture, and more!
Pansies (Annual)

Pansies come in a kaleidoscope of colors, many with contrasting markings. Being fairly tolerant of the cold, they're great for Midwest gardens in the spring and summer months.

Gerbera Daisies (Annual)

Gerbera daisies are big flowers that come in bold colors, which makes them perfect for cutting and using as a centerpiece or in a bouquet.

Geraniums (Annual)

Geraniums are an old-time favorite and do well in pots on the patio or front porch. You'll recognize them by the large flower clusters atop mounded foilage.

Petunias (Annual)

Petunias are trumpet-shaped flowers that come in many colors. They also happen to attract hummingbirds to the garden.

Marigolds (Annual)

These heat-loving golden flowers are known for their bright, sunshiney bloom, some of which are even bi-colored. Marigolds are often used as a edging plant to border off sections of the landscape.

Coneflowers (Pereniial)

Often found in the prairie landscapes, coneflowers are tall drought-tolerant plants with large flowers. They're especially nice for attracting butterflies.

Rudbeckias (Perennial)

Part of the rudbeckia's charm is that its blooms are long-lasting throughout the season. Like coneflowers, they are also drought-tolerant.

Hibiscus (Perennial)

To be more specific, Hibiscus rosa-sinensis is the perennial version. This beauty is popular with gardeners who enjoy over-sized blooms.

Daylilies (Perennial)

Daylilies are a common choice for perennials. Their blooms may be short-lived, but they're quickly replaced by others.

Shasta Daisies (Perennial)

There's a reason so many people call daisies their favorite flower. They're not only easy to grow, but they resemble rays of sunshine with their clear white petals and round golden center.