Primary Media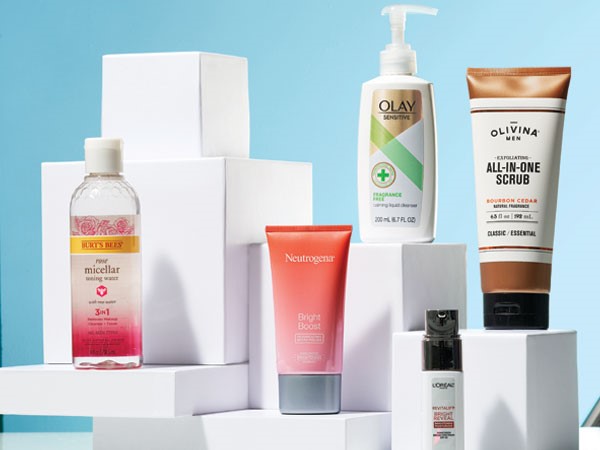 Description
Keep it simple when it comes to your skin care routine. And by simple, we mean cleanse, tone, and moisturize. If you're looking to add on to your skin care routine, try adding serums, anti-aging moisturizers, exfoliators, and masks. For all of these steps, we've got products we recommend and tips for ingredients to help you reach your skin care goals.
Cleanse

Remove dirt, oil, and makeup each morning with a facial cleanser, not regular soap, which strips skin of natural oils. At night, remove makeup with a remover solution or wipe, then use facial cleanser. Never go to bed wearing makeup, which clogs pores.

What to Use: Use a cleanser for your skin type. If oily, try one that treats for breakouts and acne. If dry, us a gentle alcohol-free cleanser. Facial cleansers are available as gels, oils, creams, and foams. Micellar water contains cleansing molecules that gently remove dirt and oils.

Exfoliate

Use scrubs to remove dead skin cells that dull skin. Chemical scrubs contain salicylic and hydroxy acid; physically acting scrubs use crystals or beads. Exfoliate, after cleansing, two to three times a week.

Tone

Unclog pores using toner in the morning and at night to remove excess oil and makeup that remain after cleansing and to gently slough off dead skin cells, shrink pores, and prep skin for moisturizing. Apply with a cotton ball or pad, then gently blot.

What to Use: Look for water-based toners, which are gentle on skin, or those with glycolic and/or salicylic acid for oily skin. Toners may also contain hyaluronic acid for hydration, green tea to reduce redness, and vitamins E and C to neutralize free radicals that age skin.

Serums

Face serums are light, easily absorbed oil or water based solutions with concentrated ingredients that nourish and moisturize. They work quicker and are more expensive than other moisturizers. Apply daily after cleansing and toaning. 

What to Use: Resveratrol, tea polyphenols act as antioxidants to target wrinkles. Vitamins C and E help prevent brown spots, reduce damage from UV rays and stimulate new collagen growth. Retinol, niacinamide reduce inflammation and redness. Glycolic acid lightens dark patches and reduces blotchiness and discoloration. Hyaluronic acid seals in hydration into the top layer of the skin.

Moisturize

Hydrate and soften with moisturizer. Smooth onto clean, slightly damp skin and neck. For oily skin, use a water-based lotion; if dry, apply an ointment or cream to lock in moisture. For combination skin, smooth heavier moisture on dry areas and lighter products on normal to dry areas.

What to Use: Find moisturizers for all needs: oily, dry, sensitive, and aging skin. Moisturizers with glycerine, hyaluronic acid, proteins, and dimethicone work especially well on dry skin. Oil-free moisturizers with alpha-hydroxy acids suit acne-prone skin. Moisturizers with retinol help reduce wrinkles in aging skin.

Anti-Aging Moisturizers

Niacinamide (vitamin B3), retinol, hyaluronic acid, and amino-peptides are a few of the active ingredients that plump skin and reduce fine lines. Apply anti-aging moisturizers, such as Olay Regenerist, at bedtime. 

Masks

Apply a cream, clay, or cotton-sheet mask once a week to deep-clean skin by unclogging pores and drawing out impurities.