Holidays
4 Pumpkin Pie Fix-Ups for the Holidays
Primary Media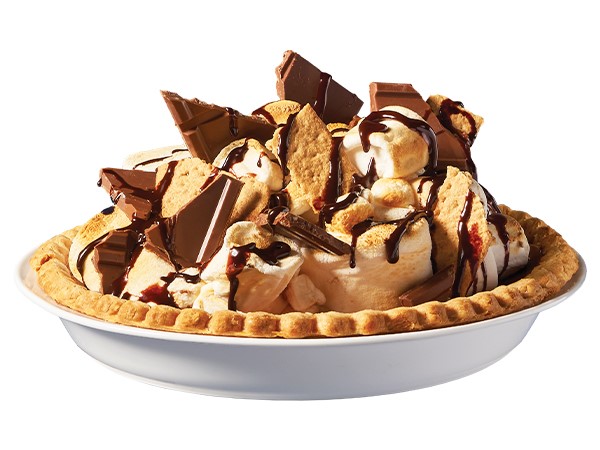 Description
Not much of a baker but looking to make your holiday pumpkin pie unforgettable? We've got a few fix-ups that are right up your alley! Just start with a Hy-Vee Bakery pumpkin pie and add a few toppings, or use it as an ingredient for pie pops, parfaits and so much more. 
Pumpkin Pie Pops

Cut 1 (10-inch) Hy-Vee Bakery pumpkin pie into 10 wedges. Insert a wooden pop stick into crust end of each wedge; place on a baking sheet. Freeze 4 to 6 hours or until firm. Drizzle pops with 2-oz. melted dark chocolate melting wafers and 2-oz. melted white chocolate melting wafers. Return to freezer until set. Serve immediately or store pops in an airtight container in the freezer. Serves 10.

S'More Pumpkin Pie

Preheat oven to 450 degrees. Place 1 (10-inch) Hy-Vee Bakery pumpkin pie on a baking sheet. Mound top of pie with Hy-Vee marshmallows of desired sizes. Bake 5 to 7 minutes or just until marshmallows are toasted but still hold their shape. Top with pieces of Zoet milk chocolate bars and Hy-Vee honey grams. Drizzle with That's Smart! chocolate sauce. Serves 12.

Pumpkin Pie Cake Stacks

Cut 1 (12-inch) Hy-Vee bakery pumpkin pie into 8 (3-inch each) rounds using a cookie cutter. Cut 8 (3-inch each) rounds of Hy-Vee Bakery unfrosted chocolate cake. Spread 1 teaspoon caramel sauce on each cake round; set a pumpkin pie round on top. Top with thawed frozen Hy-Vee whipped topping. Garnish with chopped toasted Hy-Vee pecans and chocolate curls, and sprinkle with Hy-Vee baking cocoa, if desired. Serves 8.

Pumpkin Pie Parfait

Cut 1 slice Hy-Vee Bakery pumpkin pie into cubes. In a 12-oz. glass, layer desired amount of Hy-Vee vanilla low-fat yogurt, pie cubes, and raspberries. Top with a spoonful of yogurt and granola. Serves 1.