Holidays
9 Appetizer, Snack, and Dessert Boards for the Holidays
Primary Media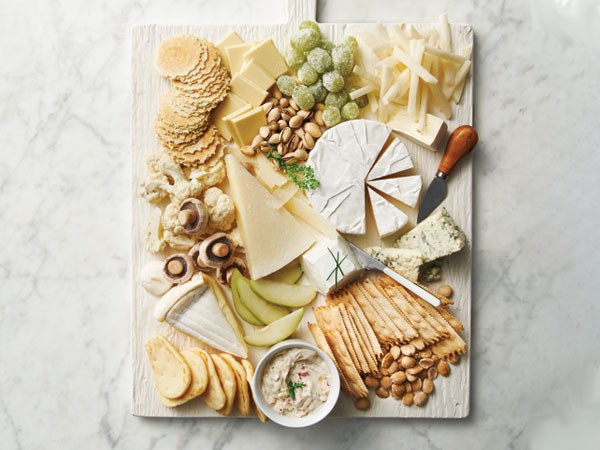 Description
Boards are meant for sharing. And, during the holidays, that includes way more than just meat and cheese. Here are some of our favorite DIY board ideas including everything from appetizers, snacks, and desserts. And, of course, you can get all the ingredients at your local Hy-Vee!
Old-World Alpine Charcuterie Board

Enjoy a hearty grazing appetizer board of Old World-inspired cheeses and dry meats, whole-grain crackers, and fruits.

What we used: Blood oranges, blueberry vanilla goat cheese, flatbread crackers, fruit pastes, Genoa salame panino, grapes, Gruyere cheese, olives (from the Hy-Vee olive bar, of course!), pomegranate, Prosciutto and mozzarella panino, fresh rosemary sprigs, Sahale Snacks Valdosta pecans, salami slices, Swiss cheese, whole-grain crackers.

Festive Wreath Charcuterie Board

Curate a festive charcuterie board to ring in the holidays!

What we used: Colby cheese cubes, Colby Jack cheese cubes, green olives, mozzarella cheese cubes, peppadew peppers, pepper Jack cheese cubes, Provolone cheese cubes, red bell pepper strips, fresh rosemary sprigs, salami, sharp and mild cheddar cheese cubes, sweety drop peppers.

Let it Snow Board

Celebrate snow days with a board fit for any whiteout. For frosted grapes, spritz grapes with water and then sprinkle with granulated sugar.

What we used: Artisan crackers, blue cheese, Brie cheese, cauliflower florets, frosted grapes, goat cheese, Hy-Vee Mediterranean dip, jicama sticks, Marcona almonds, naan dippers, Parmigiano-Reggiano cheese, pear wedges, pistachios, white mushrooms, Zoet premium Belgian white chocolate bars.

Holiday Brights Board

Offer a healthier option—an overflowing assortment of flavor and vibrant color that's healthy and tasty especially when you pair it with your favorite dipping sauces or spreads!

What we used: Asparagus spears, Belgian endive leaves, broccolini spears, carrot sticks, cherry and grape tomatoes, English cucumber slices, radicchio leaves, radishes, red pepper hummus, red, yellow and orange sweet bell peppers, salsa verde hummus, sugar snap peas


Pinwheel Snack Board

A Pinwheel Snack Board puts a savory spin on holiday get-together. Especially between meals.

What we used: almonds, artisan Soiree manchego cheese, Barber's Cheddar cheese, BelGioioso Burrata cheese, dried apricots, flatbread crackers, fresh rosemary sprigs, fresh thyme sprigs, green olives, Jarlsberg cheese, maple leaf Gouda cheese, Montchevre goat cheese log, PDO Comte Gruyere wedge, fresh raspberries, Rustic Red Cheddar cheese, Sartori BellaVitano cheese, Sartori Reserve Extra-Aged Asiago cheese.

Tree of Cheese Board

Want a memorable cheeseboard? Make a tree "board." Cover a foam cone with plastic wrap and set on a platter. Use a knife to cut cheese into cubes and a cookie cutter to form stars. Attach cheese, mozzarella balls, and cherry tomatoes to the foam cone with Simply Done designer toothpicks from Hy-Vee. Fill gaps with rosemary sprigs.

What we used: BelGioioso fresh mozzarella ciliegine (cherry size), Henning's Cheddar cheese, Nasonville Dairy buffalo wing Jack cheese, cherry tomatoes, Roth Wisconsin 3 chile pepper Gouda, fresh rosemary sprigs.

Ugly Sweater Fruit Board

Stuck bringing the fruit to your holiday gathering? Try serving a colorful and bold fruit design resembling the crazy, holiday-party garb.

What we used: Apple wedges, blueberries, cantaloupe cubes, Hy-Vee fruit dip, golden berries, grapes, kiwi slices, mint garnish, orange slices, pineapple slices, pomegranate seeds, raspberries, strawberries.

Santa's Favorite Board

Santa loves seasonal sweets. It makes sense that he would love this board, too. 

What we used: Almond cookie brittle, cinnamon crisps, gold and white sugar pearls, green jimmy sprinkles, Hy-Vee Bakery brownies (cut into stars), Hy-Vee Bakery Gourmet macarons, Hy-Vee Bakery sugar cookies, Hy-Vee Bakery Thumbprint cookies, Hy-Vee pretzel rods, Hy-Vee red and green sprinkles, Hy-Vee tiny twist pretzels, Pepperidge Farms mint chocolate Milano cookies, pistachio creme Oreo thins, pre-made Rice Krispies treats (cut into bells), white chocolate fondue.

Cocoa Toppers Board

Assemble the tastiest hot cocoa add-ins and accompaniments all in one place.

What we used:  Caramels, cinnamon Red Hots, crushed peppermint candies, Culinary Tours Belgian waffle crisps, Hershey's Hugs, Hy-Vee chocolate chips, Hy-Vee marshmallows, Hy-Vee Select pure maple syrup, mini candy canes, peppermint sticks, Pepperidge Farms pirouette cookies, Soft peppermint candies, whipped cream garnished with ground cinnamon, Zoet dark chocolate bars.