Holidays
15 Appetizer, Snack, and Dessert Boards for the Holidays
Primary Media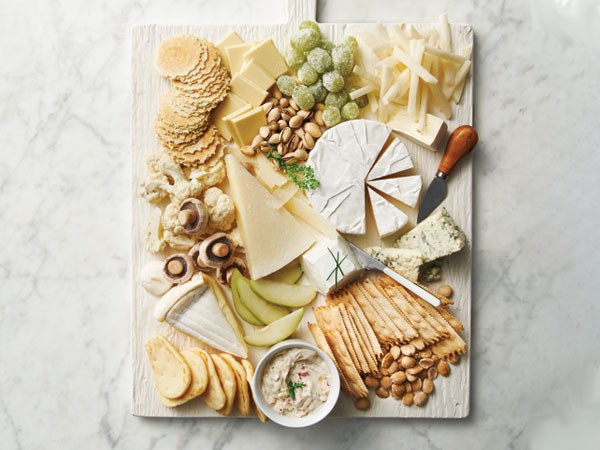 Description
Boards are meant for sharing. And, during the holidays, that includes way more than just meat and cheese. Here are some of our favorite DIY board ideas including everything from appetizers, snacks, and desserts. And, of course, you can get all the ingredients at your local Hy-Vee!
Still wondering how to get your board to look like the cover of a magazine? Follow our step-by-step how-to for creating a wow-worthy charcuterie board for any occasion. And, if that still seems too complicated, you can always order a pre-made board from Hy-Vee!
Waffle Board

What we used: Hot waffles, hot 2-1/2-to-3-inch pancakes, heated Hy-Vee frozen traditional mini pancake bites, Hy-Vee hazelnut creamy spread with skim milk and cocoa garnished with mini chocolate chips, Hy-Vee thawed frozen whipped topping garnished with sprinkles, strawberry cream cheese fruit dip swirled with strawberry jam, Hy-Vee Select 100% pure maple syrup, crisp-cooked Hy-Vee sweet smoked bacon, sliced bananas, chopped kiwi, raspberries, halved strawberries.

Brunch Board

What we used: Hy-Vee plain bagel juniors, Hy-Vee whipped cream cheese spread garnished with Culinary Tours everything bagel seasoning and crushed freeze-dried raspberries, star fruit slices, Cara Cara orange slices, Mandarin orange slices, peeled cantaloupe wedges wrapped with prosciutto, mini muffins, blackberries, Hy-Vee hard-boiled egg halves, English cucumber slices, avocado slices, pickled beets, pickled red onions, party bread Jewish rye, Gustare Vita capers, Hy-Vee Fish Market smoked Atlantic salmon, tomato slices garnished with salt-free tomato-basil seasoning and cracked black pepper, halved cherry tomatoes, crisp-cooked Hy-Vee bacon.

Basic Board

What we used: Oven-baked everything Parm crisps, burrata cheese drizzled with honey and garnished with cracked black pepper and chopped fresh thyme leaves, white Cheddar cheese slices, Hy-Vee dried apricots, Wensleydale Stilton cheese with apricots, cracked pepper wafer crackers, cornichon gherkin pickles, Jarlsberg cheese slices, Henning's 4-month-aged Cheddar cheese slices, garlic and fine herbs Boursin rolled in Culinary Tours everything bagel seasoning. Honeycrisp apple slices, Columbus Italian dry salame slices, Genoa salami slices, hot sopressata spicy salami slices, Wensleydale with lemon curd and honey cheese, fig spread.

Old-World Alpine Charcuterie Board

What we used: Blood oranges, blueberry vanilla goat cheese, flatbread crackers, fruit pastes, Genoa salame panino, grapes, Gruyere cheese, olives (from the Hy-Vee olive bar, of course!), pomegranate, Prosciutto and mozzarella panino, fresh rosemary sprigs, Sahale Snacks Valdosta pecans, salami slices, Swiss cheese, whole-grain crackers.

Festive Wreath Charcuterie Board

What we used: Colby cheese cubes, Colby Jack cheese cubes, green olives, mozzarella cheese cubes, peppadew peppers, pepper Jack cheese cubes, Provolone cheese cubes, red bell pepper strips, fresh rosemary sprigs, salami, sharp and mild cheddar cheese cubes, sweety drop peppers.

Lux Board

What we used: DeLallo pitted olives jubilee, champagne grapes, DeLallo tri-color Pepperazzi spicy-sweet peppers, D'Artagan wild boar saucisson uncured dried sausage slices, Tickler extra-mature Devonshire Cheddar, Marcona almonds, cracked pepper wafer crackers, Columbus Genoa salmae, radish slices, Old Brooklyn IPA mustard, Vermont Creamery Cremont cheese, Mandarin orange wedges, Gustare Vita traditional thin Italian bread sticks, Drunken goat cheese, caramelized pecans, La Bonne Vie tripple creme Brie cheese with honey, cranberry-pumpkin seed cracker crisps, Columbus peppered salame slices, Westminster rustic red cheese, split pomegranate, pitted Medjool dates stuffed with blue cheese and wrapped in proscuitto, Butcher and Bakery sea salt flat bread crackers, Somerdale Stilton cheese with cranberries.

Let it Snow Board

Celebrate snow days with a board fit for any whiteout. For frosted grapes, spritz grapes with water and then sprinkle with granulated sugar.

What we used: Artisan crackers, blue cheese, Brie cheese, cauliflower florets, frosted grapes, goat cheese, Hy-Vee Mediterranean dip, jicama sticks, Marcona almonds, naan dippers, Parmigiano-Reggiano cheese, pear wedges, pistachios, white mushrooms, Zoet premium Belgian white chocolate bars.

Holiday Brights Board

What we used: Asparagus spears, Belgian endive leaves, broccolini spears, carrot sticks, cherry and grape tomatoes, English cucumber slices, radicchio leaves, radishes, red pepper hummus, red, yellow and orange sweet bell peppers, salsa verde hummus, sugar snap peas


Pinwheel Snack Board

What we used: almonds, artisan Soiree manchego cheese, Barber's Cheddar cheese, BelGioioso Burrata cheese, dried apricots, flatbread crackers, fresh rosemary sprigs, fresh thyme sprigs, green olives, Jarlsberg cheese, maple leaf Gouda cheese, Montchevre goat cheese log, PDO Comte Gruyere wedge, fresh raspberries, Rustic Red Cheddar cheese, Sartori BellaVitano cheese, Sartori Reserve Extra-Aged Asiago cheese.

Tree of Cheese Board

Want a memorable cheeseboard? Make a tree "board." Cover a foam cone with plastic wrap and set on a platter. Use a knife to cut cheese into cubes and a cookie cutter to form stars. Attach cheese, mozzarella balls, and cherry tomatoes to the foam cone with Simply Done designer toothpicks from Hy-Vee. Fill gaps with rosemary sprigs.

What we used: BelGioioso fresh mozzarella ciliegine (cherry size), Henning's Cheddar cheese, Nasonville Dairy buffalo wing Jack cheese, cherry tomatoes, Roth Wisconsin 3 chile pepper Gouda, fresh rosemary sprigs.

Ugly Sweater Fruit Board

What we used: Apple wedges, blueberries, cantaloupe cubes, Hy-Vee fruit dip, golden berries, grapes, kiwi slices, mint garnish, orange slices, pineapple slices, pomegranate seeds, raspberries, strawberries.

Vegan Board

What we used: Radicchio lettuce cups, organic rainbow carrot sticks, radishes, grilled pita breads, spicy yellow lentil hummus, red mini sweet bell peppers, yellow mini sweet bell peppers stuffed with Daiya dairy-free plain cream cheeze style spread, English cucumber slices, Miyoko's double-cream classic chive cashew milk cheese, raw asparagus, Dried golden figs, Hy-Vee whole almonds, Violife block vegan feta cheese alternative, Gustare Vita extra virgin olive oil, Hy-Vee dried apricots, pitted Italian Castelvetrano olives, pink Himalayan salt flatbread crackers, Sriracha carrot hummus garnished with finely chopped carrot and green onions.

Santa's Favorite Board

What we used: Almond cookie brittle, cinnamon crisps, gold and white sugar pearls, green jimmy sprinkles, Hy-Vee Bakery brownies (cut into stars), Hy-Vee Bakery Gourmet macarons, Hy-Vee Bakery sugar cookies, Hy-Vee Bakery Thumbprint cookies, Hy-Vee pretzel rods, Hy-Vee red and green sprinkles, Hy-Vee tiny twist pretzels, Pepperidge Farms mint chocolate Milano cookies, pistachio creme Oreo thins, pre-made Rice Krispies treats (cut into bells), white chocolate fondue.

Cocoa Toppers Board

What we used:  Caramels, cinnamon Red Hots, crushed peppermint candies, Culinary Tours Belgian waffle crisps, Hershey's Hugs, Hy-Vee chocolate chips, Hy-Vee marshmallows, Hy-Vee Select pure maple syrup, mini candy canes, peppermint sticks, Pepperidge Farms pirouette cookies, Soft peppermint candies, whipped cream garnished with ground cinnamon, Zoet dark chocolate bars.

Holiday Sweets Board

What we used: Hy-Vee Bakery frosted brownies decorated with fruit leather candies, Hy-Vee pretzel rods drizzled with melted white chocolate and Over the Top decorating jimmies, Green and red M&M's milk chocolate candies, Hy-Vee Bakery holiday decorated sugar cookies, Andes creme de menthe thins, Mini stroopwafel biscuits dipped in melted white chocolate and Over the Top decorating jimmies, Soft peppermint candy puffs, Edible cookie dough balls coated with melted white chocolate and Over the Top decorating Jimmies. Hershey's Santa hat kisses, Hy-Vee milk chocolate stars, Zoet premium Belgian white chocolate, Hy-Vee vanilla yogurt covered raisins, Hy-Vee Bakery powdered sugar donut holes, chocolate chip cookie cones dipped in melted white chocolate and Over the Top decorating jimmies, white chocolate popcorn clusters (stir together Hy-Vee salted popcorn with melted white chocolate and top with sprinkles), Hy-Vee yogurt mini pretzels.