How-to Article
How-To
Easy DIY Flag Vase for Your Fourth of July Cookout
Primary Media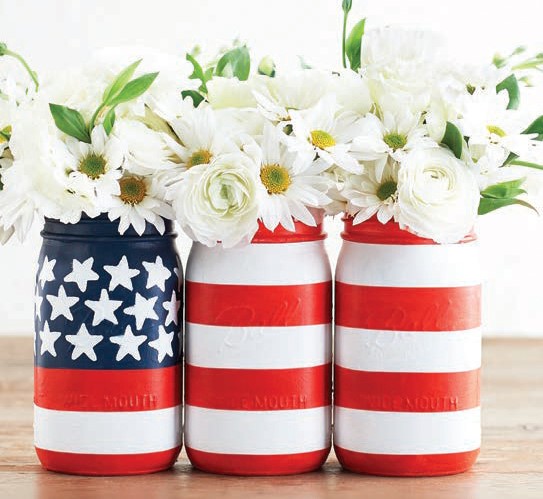 Description
Flowers are always lovely, but the vases are the real stars of this display. You can take credit for this patriotic centerpiece with a few simple crafting supplies. Or should we say masterpiece?
Directions
In a well-ventilated area, spray-paint the outside of the jars matte white. Let dry. Apply second coat. Let dry

On two jars, mark lines every 1¼ inches down from top and tape off every other stripe using painter's tape. On one jar, leave off top two red stripes. Apply red paint to jars using foam brush. Let dry. Paint second coat. Let dry.

Paint top portion of third jar navy blue. Let dry. Apply second coat. Let dry

On navy portion of jar, use a 1-inch star-shape stamp and white paint to apply rows of stars. Let dry. Touch up with fine-tip paintbrush.

Fill jars with cool water.

Hold flowers next to a jar to determine height. Remove leaves that will be below the waterline. Cut stems on a diagonal while holding them underwater to avoid trapping air in stems. Split flowers into three groups. Place stems in jars, arranging as desired.

To keep arrangement fresh, change water daily.
Help us make this page better!