Primary Media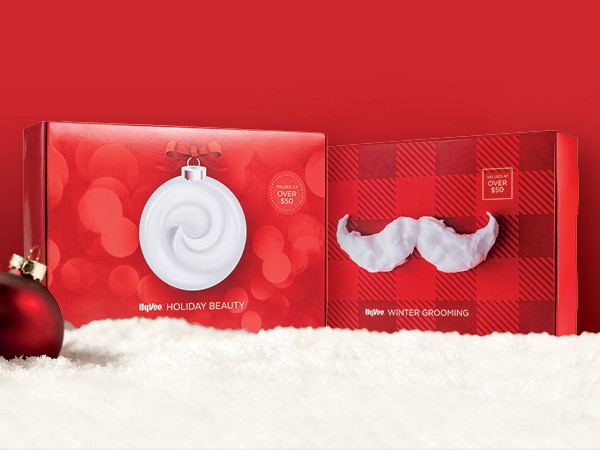 Description
When you purchase a Hy-Vee Grooming Box in stores or through Aisles Online, you get a curated collection of cleansers, shave creams, beard oils, and more! For just $9.99 and valued at over $50, check out the products you can get in this season's box!
Also check out the Holiday Beauty Box featuring face masks, shampoo, conditioner, makeup, and more!
Oak All-In-One Wash

Made with organic white birch extract to purify skin and organic yerba mate extract to help energize, Olivina Men Black Oak All-In-One wash is a refreshing multi-functional cleanser.

2-In-1 Hair Care

Method Men's 2-In-1 Hair Care is a plant-based daily shampoo and conditioner that gets the job done in a jiffy. We love its crisp, clean nautical notes that will whisk you away to wind-capped waves. Plus, the bottle is made with 65% recycled plastic.

Natural Deodorant

American Provenance Fastballs & Fisticuffs Natural Deodorant is known for being long-lasting. Free from aluminum, parabens, phthalates, and all things artificial, this hand-crafted deodorant is one you can feel good about.

Military-Inspired Bar Soap

Described as smelling like Naval Supremacy (refreshing ocean scent), proceeds from this travel-friendly brick soap benefit U.S. veterans.

Plant-Based Deodorant

Plant-based and not tested on animals, Method Men Deodorant is a cruelty-free, paraben-free, aluminum-free choice to show armpits the love they deserve.

Shave Butter

Van Der Hagen Shave Butter is made with an incredibly rich and buttery formula containing shea, mango, and cocoa butters. We love that it reduces razor burn and leaves the skin soft and nourished.

Beard Wash & Tame

Beard Guyz to the rescue with their 2-In-1 Wash & Tame shampoo and conditioner designed for beards. It not only helps reduce beard itch and irritation, it also leaves the beard silky soft and manageable.

Beard Butter

Brisk Beard Butter and Styling Balm can be used on wet or dry beards to help style, shape and control unruly hairs. Plus, it nourishes hair for a healthy beard that looks well-groomed.

Beard Oil

Brisk Beard Oil is fast-absorbing, non-greasy and designed to soften and tame even the grizzliest of beards. This ultra-light formula features a combination of nourishing almond, avocado, argan, and jojoba natural oils for a ultra-healthy beard.

Cedarwood Deodorant

Get long lasting odor protection with Every Man Jack 99% naturally derived deodorant. Cotton extract and witch hazel absorb wetness. Lichen extract—a natural antibacterial agent—helps control odor-causing bacteria, while essential oils of rosemary and sage leave you feeling fresh and clean.

Shave Cream

Barber Grade Shave Cremo Original Shave Cream requires an unusually thin, foam-free layer that's concentrated against your skin, giving you an impossible slick, smooth shave. We happen to love the citrus scent that makes for a bright, fresh, highly enjoyable shave.