Food Love
6 Things to Know About Hy-Vee Take and Bake Pizza
Primary Media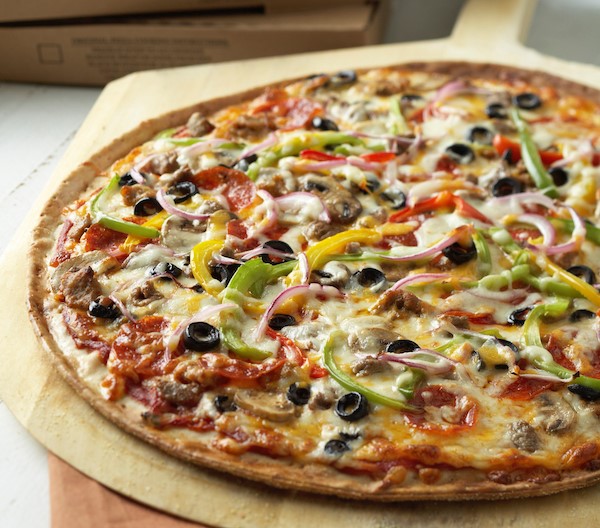 Description
This isn't your ordinary takeout or your ordinary pizza for that matter. Hy-Vee take & bake pizzas are made with fresh ingredients, come in a variety of crust styles, and are equally good for lunch, late-night, and of course, breakfast.
Look for the collection of take and bake pizzas and flat breads at your local Hy-Vee.
Cheese!

Our take & bake pizzas are made with whole milk mozzarella cheese sourced from some of the best cheesemakers in Wisconsin. That's what gives our pizza the pull it deserves around the dinner table.

Crust

It all comes down to the crust, literally. Which is why we developed something for everyone. From traditional hand tossed to thin to Tuscano gourmet cracker-thin, and even our gluten-free version, we've a crust to match any kind of craving.

Family-Size

Choose from a medium 12-inch pie to share with 2 or 3 ... Or, opt for the family-size 16-inch large pizza for 5 or 6 people (or 2 or 3, depending on how hungry you are).

Breakfast

So long, snooze button. Nothing gets us out of bed faster than thin-crust sausage or bacon breakfast pizza with eggs and an extra cheesy sauce.

Flavors

Three-cheese, beef, sausage, pepperoni, meat cravers, supreme, Canadian bacon ... our ready-to-go take & bakes come in an assortment of family favorites.

Flat Bread

Our take & bake collection is not just for pizza. We also have six different flavors of flatbread to choose from. For appetizers, sides, or the main meal, flat breads always add a good variety to the mix. Plus, the baking instructions could not be easier:

 

Preheat oven to 425 degrees.
Remove wrap from flatbread. Slide off cardboard directly onto oven rack.
Bake 8-10 minutes, until cheese is melted or crust is golden brown.
Slide back onto cardboard. Cut and enjoy.