Primary Media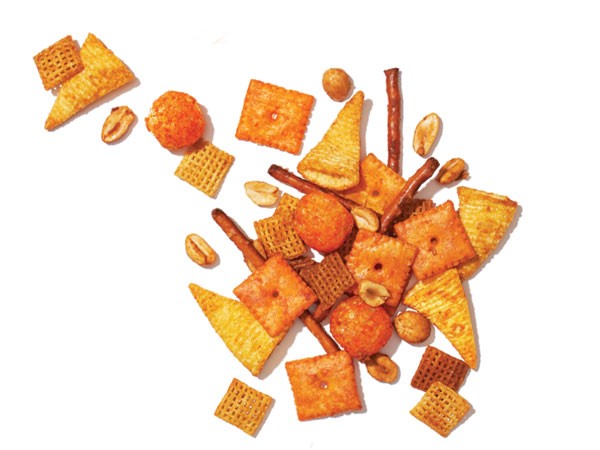 Description
Who's ready to stay home, watch basketball, and kick back with a plate of quesadillas and wings? That's right... It's tournament time! And we can't think of a better way to spend our March.
Cast Iron Buffalo Chicken Dip

This show-stopper recipe comes with healthy alternatives.

10-Minute Nachos

All that stands between you and a plate of nachos is 10 minutes thanks to Hy-Vee Short Cuts.

Slam-Dunk Snack Mix

This game day snack mix is a slam-dunk with everyone at your watch party. Not only is it crunchy, but Frank's RedHot sauce adds a subtle spiciness you won't be able to get enough of!

Cheesy Monkey Bread

It's not just packed with cheese, it's got bacon and hot dogs stuffed inside too!

Hawaiian Bread Pull-Apart Sandwiches

King's Hawaiian original sweet dinner rolls make everything better.

BBQ Chicken Pull-Apart Pizza Bread

Highly portable, highly shareable, this one is a watch party MVP.

Cheesy Pizza Bread Bowl

Think of it as an inside-out pizza. Is your mind blown yet?

Beer and Cheese Dip

Cheese and beer. Match made in March Madness heaven.

Cheesy Pigs in a Blanket

Barbecue sauce, mayonnaise, Dijon, and mustard in one dipping sauce. You won't believe how good it tastes.

Fully Loaded Totchos

Bring this popular bar food menu item to the comfort of your own home.

Sesame Turkey Meatballs

You won't have to feel guilty about popping more than one of these in your mouth.

Buffalo Quesadilla

Shortcut to fantastic quesadillas: Spread our Hy-Vee Kitchen buffalo chicken dip on tortillas. Cook and enjoy!

Maple Topped Brie Cheese

Your tournament watch party just got fancier.

Baked Crab Toasts

A classic appetizer with a twist creates an exceptional party snack.

Easy Barbecue Shrimp

Chicken wings, but in seafood form.

Mini Crab Cakes

This seafood dish works well as an appetizer or an entree.

Fried Bacon Cheddar Balls

Fried. Bacon. Cheddar. The ultimate March Madness appetizer.

Crab and Spinach Stuffed Mushrooms

This elegant hors d'oeuvres uses another handy shortcut: Hy-Vee spinach dip.

Ham and Cheese Crescent Roll-Ups

Layers of cheese and ham in a crispy, flaky biscuit create a delightful shareable snack.

Mini Potato Bites

Top baby red potatoes with a mixture of sour cream, Sriracha, and ranch dip. Perfection!

Antipasto Kabobs

You don't need an oven to make these gorgeous appetizers.

Peanut Butter and Jelly Sticky Wings

Peanut sauce and Sriracha jelly coat chicken wings. You'll wonder where this recipe has been all your life.

Avocado Cracker Bites

These eye-popping treats take just minutes to assemble.

Buffalo Chicken Skewers with Bleu Cheese Dip

Buffalo chicken made healthy!

Mini Phyllo Tacos

The shells are pre-baked, so you only need to heat them up. Easy peasy!

Chicken 'n' Waffle Appetizers

Chorizo Nacho Pepper Poppers

Tons of flavor is packed into these poppers.

Frank's RedHot Buffalo Chicken Dip

You've just stumbled across one of our most requested recipes!

Greek 6-Layer Dip

Add a Mediterranean flair to your next gathering.

Cajun Burger Bites

Easier and healthier to eat, these mini burgers win the day.

Bacon Spirals

Bacon, but make it candied and spicy. 

Fried Goat Cheese

This snack probably needs no introduction besides "fried cheese."