Primary Media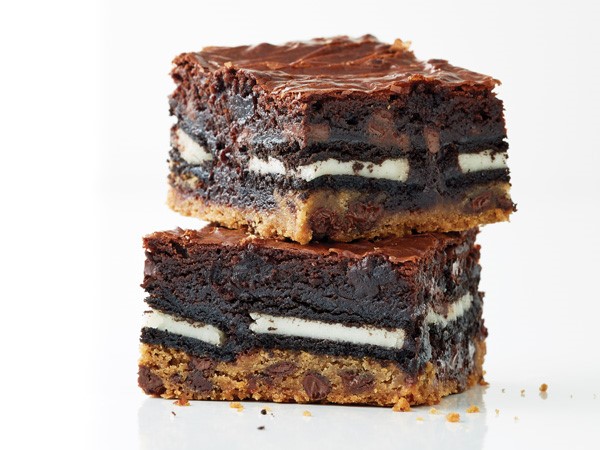 Description
Oh how we love the madness of March. Especially when there are 16 sweet desserts for the sharing. 
Slam Dunk Cookies

Your pals will think these cookies came from a bakery. Oreos come through with the assist!

Strawberry Oatmeal Squares

Sweet snacks, but make them healthy.

Giant Chocolate Chip Cookie

Add mini marshmallows to your go-to cookie dough for a whole new level of gooey goodness.

Peanut Butter S'more Crispy Treats

Some of your favorite snack items are packed into one treat.

Margarita Zingers

Buttercream sandwiched between two sugar cookies rolled in a sugar-lime mixture. It's the perfect spring zing for your March Madness watch party.

Peanut Butter and Jelly Cupcakes

Elevate your childhood lunch staple with beautiful stuffed cupcakes.

Tiramisu, But with Beer

Soak ladyfingers in coffee-flavored stout for a beyond genius spin on an indulgent dessert.

Tin Roof Pie

Chocolate crumb crust + vanilla ice cream + caramel drizzle + peanut topping = your new dessert MVP. 

Chocolate Drizzled Caramel Popcorn

Hot tip: This popcorn snack pairs well with a rich porter.

Crazy Good Cookie-Brownie Bars

This ultimate dessert mash-up is a win-win-win.

Salted Caramel Snickerdoodle Sandwiches

Take snickerdoodles up a notch with a caramel cream filling.

Brownie Cups

All you need is Hy-Vee deluxe brownie mix, a muffin tin, and a scoop of ice cream to top it off.

Peanut Butter Cake in the Slow Cooker

Have you ever used your slow cooker for baking? Your life will never be the same.

Cheesecake Bites

We dare you to eat only one of these adorable treats.

Caramel Coconut Thumbprints

Reminiscent of everyone's beloved Girl Scout Cookie, these coconut cookies are filled with a melted caramel center.

Dessert Fruit Pizza

The crust is made from cookie dough! Need we say more?