Primary Media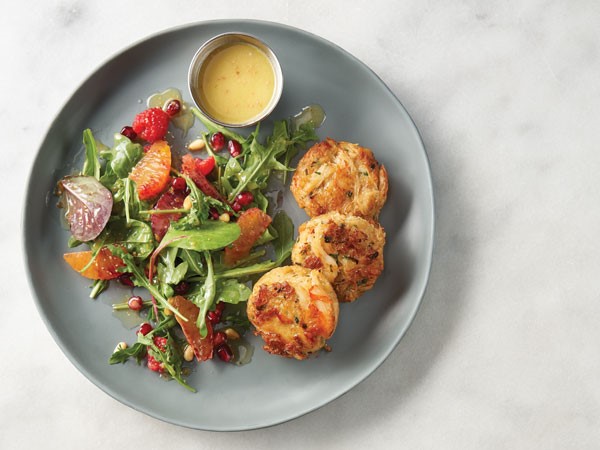 Description
Don't get us wrong, we love a good fish fry. But when you're looking for something just as delicious but a whole lot lighter, you'll find just the thing in our top 12 healthy seafood dinners.
Kickin Shrimp

Kick up the heat, but not too much. This Korean take on shrimp is just the right amount of spicy and sweet.

Shrimp Crab Cakes

Turn your favorite seafood appetizer into a healthy entree by serving it with a ginger-soy veggie noodle salad made with fresh ginger.

Crab Tostadas

When you're in the mood for fresh Mexican, remember this recipe, made with fresh lump crab meat.

Crab Cake Salad

We sure do love our crab cakes, especially when served with a citrusy salad—complete with a homemade orange vinaigrette.

Coconut Curry Shrimp Soup

For a lighter take on takeout, this is our go-to curry soup.

Veggie Noodle Shrimp Scampi

You may have seen this recipe before. If you still haven't tried it, move it to the top of the list—it's definitely an all-around favorite.

Shrimp Lemon and Pea Cauliflower Risotto

We know it's not real risotto, but we promise it's still really, really delicious.

Teriyaki Salmon with Roasted Pineapple

A family-favorite that we love even more for being a quick one-pan dinner.

Honey-Orange Salmon with Roasted Rosemary Veggies

The thing about sheet-pan salmon dinners is that is so easy to change up the flavors. We're big fans of this honey-orange version.

Pistachio and Parmesan Crusted Halibut

Who doesn't love a good crunchy topping? We can't think of anyone...

Mediterranean Crusted Halibut

The crispy toppings are also easy to change up. Here we use panko breadcrumbs and feta cheese.

Sheet Pan Tilapia

Tilapia is one the most versatile fish we know, and just about one of the quickest to cook. This dinner's ready in just 20 minutes.