How-to Article
How-To
How to Make Beef Wellington
Primary Media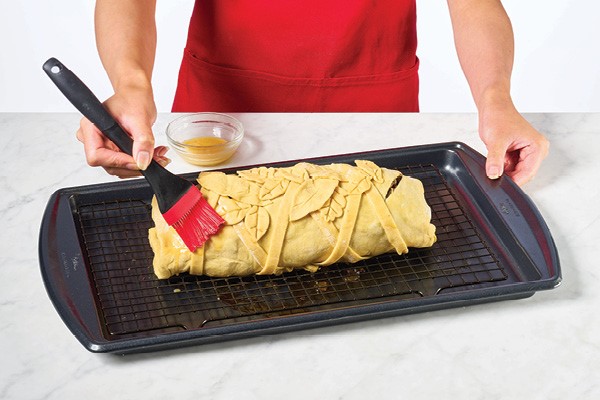 Description
What's Beef Wellington? It's a tender piece of beef tenderloin wrapped in flaky puff pastry and baked for an entree that will complete any holiday. Once you try this recipe, you're going to want to see this main dish at every holiday event! It's easier to make than you think! (Especially with our step-by-step tutorial).
Looking for the full recipe? Get our Beef Wellington recipe right here!
Directions
In a large skillet, sear all sides of the tenderloin until brown.

Brush a light layer of jam on top of the tenderloin.

On a floured surface, roll out puff pastry to a 16x13-inch rectangle. Trim and save any extra pastry.

Spread the mushroom mixture down the center of the pastry. Place the tenderloin on top, jam side down.

Fold the puff pastry up on both ends, then fold one side over the other.

Brush egg wash over bottom edge of seam; press to seal. Flip over and score the top of the pastry.

Attach puff pastry cutouts to the top by brushing with egg.

Brush Wellington with remaining beaten egg and sprinkle with salt.
Help us make this page better!