Primary Media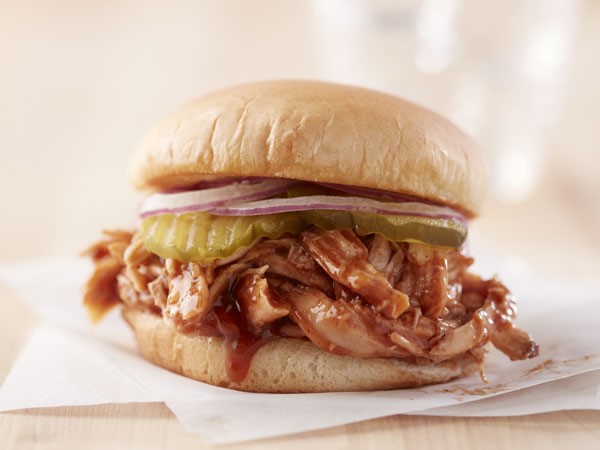 Description
Because sometimes you only have 30 minutes (or less) to get dinner on the table. When that time hits... reach for rotisserie chicken at your local Hy-Vee kitchen department. You can find it whole, or pre-shredded. 
Chicken Alfredo Pizza

Having pizza night? Maybe it's planned, or maybe it's impromptu... either way, you can have dinner on the table in just 20 minutes. All thanks to a few simple ingredients and pre-cooked rotisserie chicken.

Sweet-Spicy Stir-Fry

Skip the Asian takeout and make our 20 minute stir-fry. It's packed with rotisserie chicken, fresh vegetables, and pantry staples for a homemade sauce.

That's Smart! Shredded Chicken BBQ Sandwiches

Not only is this recipe a quick rotisserie chicken recipe, but it's also budget friendly. Make a whole batch of sandwiches for just $2.25 per serving. That's why this recipe is so smart!

Chicken Noodle Soup

Everyone needs a good chicken noodle soup recipe. One that's quick and doesn't involve cooking the chicken, that is. Make this soup packed with veggies and egg noodles in just 30 minutes.

Chicken Pasta

5 ingredients, 20 minutes, and some rotisserie chicken. That's all you need to make this quick and tasty pasta dish.

Chicken-Yogurt Mac 'N' Cheese

Rotisserie chicken mac-and-cheese? You betcha! You don't even need a special occasion to dig in to this comfort food. Especially because it's ready in just 30 minutes.

Creamy Chicken and Gnocchi Soup

A creamy soup that's ready in 30 minutes, comforting, and not-so-bad-for-you. Dig in to this rotisserie chicken-packed creamy gnocchi soup that will give your favorite Italian restaurant a run for their money. 

Biscuit-Topped Chicken Potpie

Quick and comforting? Rotisserie chicken recipes don't get better than this chicken pot pie topped with oven-baked biscuits. Have this on the table in just 30 minutes.