Living
7 Meal Prep Tips & Recipes for Stocking the Freezer
Primary Media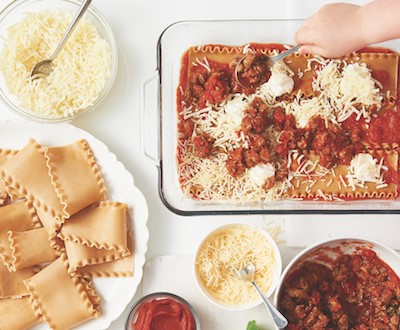 Description
Your freezer is your best friend for big-batch cooking, whether that's individual meals or family-size casseroles. Here you'll find our best tips for meal prepping, as well as the recipes to get started. 
One Lasagna, Two Lasagna

When making casserole or lasagna, be efficient with your time and make at least two: one for now; one for later. You can freeze whole casseroles unbaked, or bake them and freeze individual portions in freezer-safe containers. Try it with this lasagna. 

Complete Meals

If freezing entrees in individual portions, you can include sides such as cooked vegetables or grains. Check out these complete Meal Ideas for inspiration.

 

 

Hyvee Culinary Expert Tip

Blanching vegetables before freezing them stops enzymes that harm flavor, color, and texture. This simple technique involves quickly boiling vegetables and then plunging them into a bowl of ice water.

Freeze Overripe Fruit

If you have any berries, peaches or bananas that are becoming overripe, freeze them in one-cup portions to make quick smoothies in the morning. 

One Starter, Three Meals

Prepare a big batch of meat sauce or enchilada filling, and use it to make three different meals. For this recipe, we used enchilada filling to make an enchilada bake, enchilada nachos, and enchilada soup. 

Freeze Flavor Enhancers

Freeze leftover broth, pesto, pasta sauce, or tomato paste in an ice cube tray. Once solid, transfer the cubes to a resealable freezer bag. Next time you're making sauce or soup, just toss in a cube of what you need.

Freeze Chopped Veggies

Since you're chopping onions and other veggies, go ahead and chop a big batch. Then toss the extras in a freezer bag and stash in the freezer for the next time. You'll save yourself time and dirty dishes in the long run.

Forget Chopping Altogether

Or skip the knife work and save time washing, chopping, and cleaning by reaching for the Hy-Vee Short Cuts. These pre-washed and chopped fruits and veggies are waiting for you in the produce department. You'll find diced onions, chopped tomatoes, sliced peppers, spiralized sweet potato noodles, zoodles, and more.