Food Love
8 Hy-Vee Test Kitchen Favorite Soups, Stews, and Chowders
Primary Media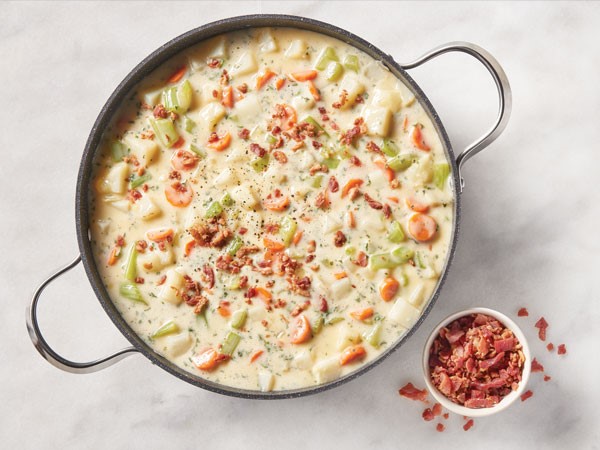 Description
Check out the soups our Test Kitchen is raving about! You might just discover some new and exciting recipes that have all been tested, developed, and are sure to work in your own kitchen.
Beer Brat Pot Pie

Why we love it: brats, cheese, and pretzels. What more could you ask for in a hot bowl of soup?

Fresh Corn-Miso Soup

The fresh and bright flavors of corn pair perfectly with the savory and spicy flavors of miso and red curry paste. Oh, and did we mention it's vegan?

Creamy Potato Soup

We couldn't leave out classic potato soup!

Vegan African Stew

Peanut butter is going to be your new favorite soup and stew stir-in.

Cheeseburger Potato Chowder

Potatoes, cheese, and ground beef. It's like a cheeseburger in soup form... and it's everything that you would want it to be.

Tumeric Ginger Chicken Zoodle Soup

It's like your favorite chicken noodle soup, only better.

Tom Yum Vegetable and Shrimp Soup

This Thai favorite soup is savory, sour, and fresh. You won't be able to get enough of it.

Champion Chicken Chili

Green chili? Yes please! Especially when that green color comes from blending spicy poblano peppers.